State Bank Financial Recognized as top SBA Lender
Published: 05/10/2018
Published in: small business, awards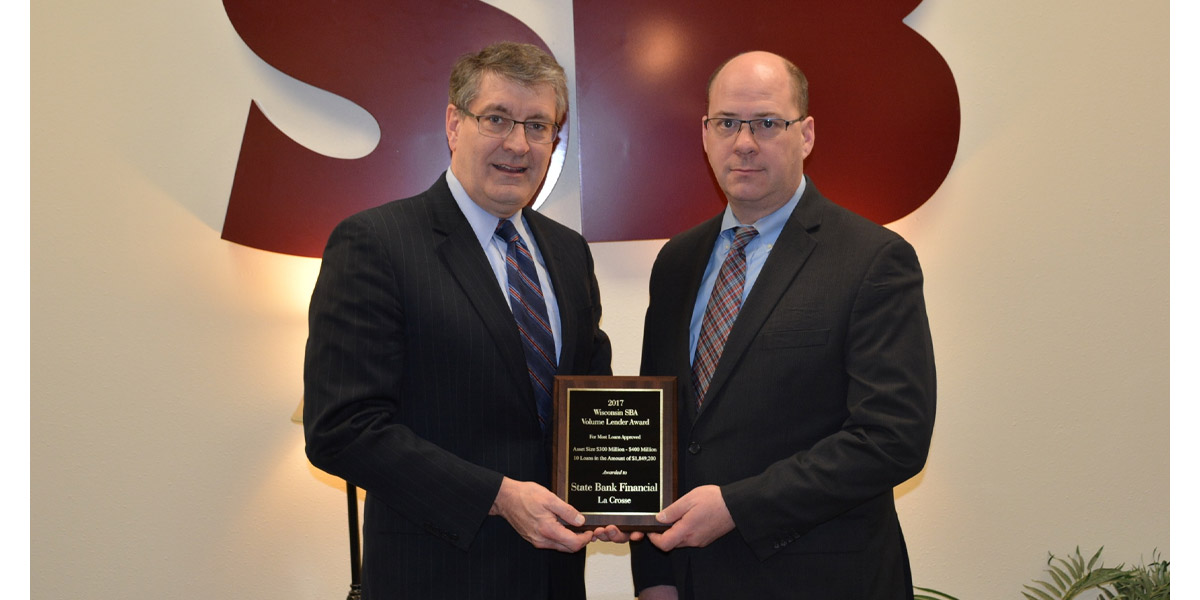 Eric Ness, U.S. SBA, WI District Director, presents the SBA #1 Volume Lender Award to Colin Fleming, at State Bank Financial
(La Crosse, WI) State Bank Financial was recently recognized as the number one Wisconsin SBA Volume Lender by the Small Business Administration for financial institutions with assets of $300 - $400 Million. State Bank Financial helped 10 different businesses in the state of Wisconsin make use of the SBA Program and coordinate lending of nearly $2 Million in 2017.
"SBA loans are very popular with new businesses," said Colin Fleming, Vice President of State Bank Financial. "When we developed the State Bank Financial Small Business Advisory Group 5 years ago this was one of the goals that we had," said Fleming.
Colleague, Robert Warren, State Bank Financial Small Business Relationship Manger went on to say that many times SBA lending is critical for young entrepreneurs, as well as rapidly expanding firms that have been in operation for years. "Open, expand, thrive is a mantra we have at State Bank Financial and SBA loans are tailored to help do just that," said Warren.
On May 10th, State Bank Financial will be recognized at the 29th Annual Wisconsin Lenders Conference for their accomplishment.
View all posts